2015-05-05 Posted in: dizmo, smart building, smart home
Innovation in Healthcare Real Estate: Ambient Assisted Living
As part of the Immohealthare conference, our CEO Matthias Aebi talked about ambient assisted living and "The Interface of Things – A comprehensive approach for personalized assistance systems." After the presentation we asked him several questions about the event and his talk.
What is the main purpose of the Immohealthcare conference and what role did you play?
It is a yearly conference on healthcare real estate. As part of the conference I had the chance to speak about how the latest technology can help elderly people in their daily life.
And how can technology help elderly people?
People are living longer. The majority of elderly people hope to stay in their homes as long as possible, despite the health challenges of longevity. Fortunately, technology has the potential to be an enabler in creating health and long-term care systems that are well integrated in every day's life, as well as address the individual needs of elderly people.
In this context, Ambient Assisted Living (AAL) – a sub-topic within the larger concept of "Smart Living"- is a widely used term. It encompasses technical systems, services and concepts which in conjunction with the social environment, supports elderly people in their daily routine extending the independent lifestyle they are used to for as long as possible.
What kinds of requirements have to be fulfilled by such a system?
Since people and their needs change with time, the system in place needs to be adaptable and flexible. Besides being personalized and comprehensive it should be equipped with a user-interface that is intuitive and simple to use.
However, in most cases, these systems are complicated to deal with, not tailored to the individual's needs and cost-intensive in maintenance.
So what would be your solution and where do you see dizmo in all of this?
Combining the four requirements, personalized – comprehensive – easy to use – affordable, might appear to be a contradiction at a first glance, but they are achievable using techniques of "mass customization". That is the use of flexible computer-aided manufacturing systems that combine the low unit costs of mass production processes with the flexibility of individual customization.
This is where dizmo comes into play. With its intuitive approach, it enables even people that haven't grown up with computers to use interactive systems with great ease. In addition, dizmo is easily customizable in order to respond to the needs of individuals.
Can you give us an example of how dizmo's ambient assisted living could look like in reality?
Imagine Alice Miller, an elderly woman who has difficulty walking. But despite the fact that she is slightly overcautious and a bit wary, she can still care for herself. Moreover she is a vivid grandmother who wants to participate in the life of her children and grandchildren. Her dizmoViewer could contain a Facebook dizmo that streams live the photo albums of her family. It could also be equipped with a big alarm button; being pressed it will automatically dial the emergency number. Furthermore, just by clicking the corresponding picture she is able to order the menu for the next day from the local food delivery service or automatically order a taxi without the tedious search for the phone number.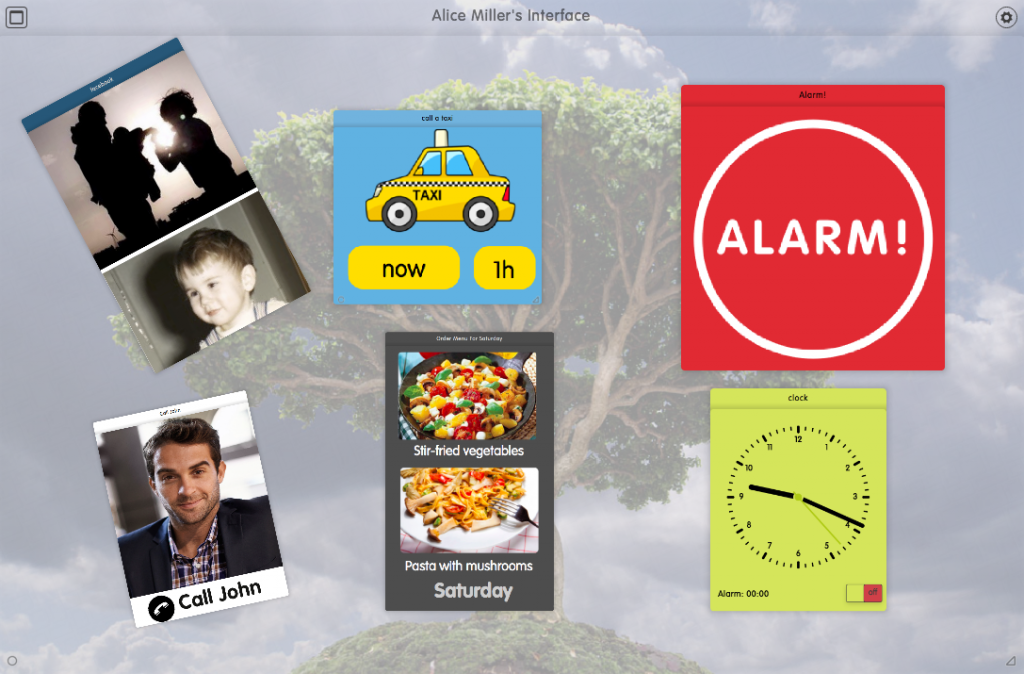 One could think of many more cases in which dizmo could provide a universal approach to Ambient Assisted Living that is not only easy to use, but also affordable and tailored to the individual's needs.
What is your personal take-away from the event?
Due to the fact, that there were speakers from different fields, I gained many new insights into the topic. Once more all the speeches have confirmed my belief that we need to put the people first, if we want to remain successful in the long term. And this implies to involve the end user on the creation process from the beginning.
Thank you, Matthias.
Interested in more information about Smart Living? Stay tuned for more posts about this fascinating topic!
Last updated: December 4, 2018