Dizmo customers
Here is a partial list of Dizmo customers. Our customers have used Dizmo across multiple industry segments (Industry, Living, Office) and across multiple use cases. The personas using dizmo ranges from the operator in the manufacturing plant to the home user, the VP of operations and the support teams.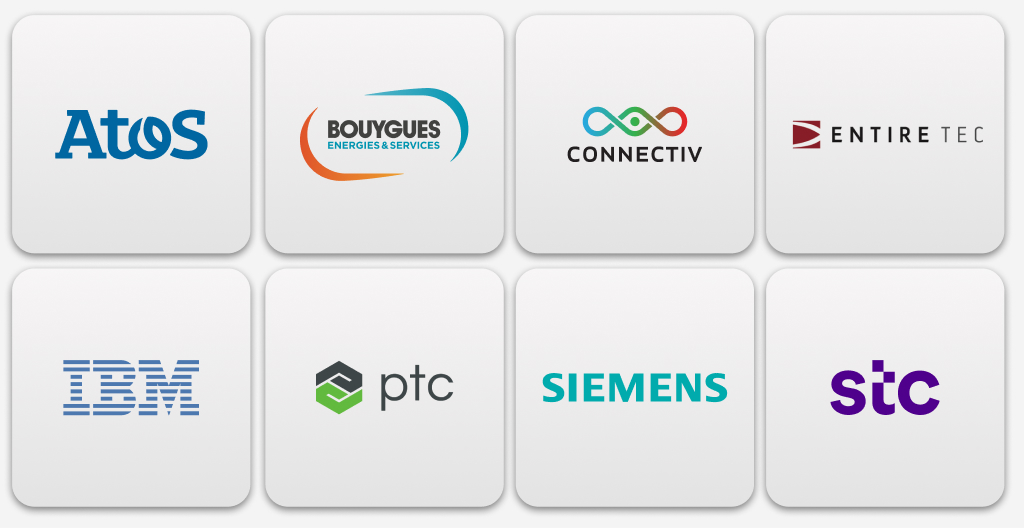 Awards
Dizmo has won various awards.

Testimonials
Gene Reznik
Chief Strategy Officer, Accenture
"In times of epic disruption our future is going to be grounded on our ecosystem, whether it be the Microsofts, the Oracles, the Zendesks or the dizmos!"
Fernando Monzón
CTO of everis_IoT
"There is a before & after dizmo. They equip you with the pieces, components and a set of evolved UI techniques to roll out your IoT dashboards in an adaptive, mass customised and agile way. Furthermore, dizmo enables greater levels of insight and interactivity. You can actually interact with the data to uncover insight and benchmarking where previously you could not have."
Brian Wei
Director of Commercial Displays & Solutions Europe, Viewsonic
"We are excited to be teaming up with dizmo with the launch of our ViewBoard digital whiteboard at ISE 2017. The collaboration will allow our users to utilize dizmo's innovative digital workspace software on our ViewBoard displays, transforming team collaboration as we know it. We look forward to combining our expertise in display with dizmo's state of the art software to provide a more dynamic user experience to the corporate and educational workspace."
Simone Thomas
Project Manager at Swiss Economic Forum
"The Swiss Economic Forum platform and initiatives promote an entrepreneurial way of thinking and actively help promote young companies. Dizmo allows people to present, share, discuss and collaborate on subjects in a completely new, innovative and effective way . It is something not comparable with anything, with its amazing interactivity and intuitive behaviour. It made the direct question-answer environment of our events a truly open, immersive and memorable experience."
John Rice
Lead Product Development for Swisscom
"Every year Swisscom presents new technologies to our major customers at Swisscom Dialog Arena. Swisscom worked with dizmo to demonstrating "the Workplace of the Future" which showed virtual secure collaboration majoring on Unified Communications, data integration and interaction and remote access, all via a bespoke touch enabled desk."
Pam Huling
COO of Brooklyn-based Blue Chalk Media
"At Blue Chalk we're all about innovative visual storytelling and using the best tools to communicate our ideas in fresh, new ways. When people see dizmo in action for the first time as part of our presentation, their eyes bug out and they get very excited. Now that's fun."
Prof. Dr. Martin Zimper
Head of CAST/Audio-visual Media at the Zurich University of Art and Design
"Dizmo has the potential to bring new life to education techniques, boosting creativity, collaboration and change the way we share and present allowing a new seamless, interactive, dynamic and immersive way to do it."
Sartaj Anand
Curator of TEDx Bangalore
"TEDxBangalore is extending the experience of sharing amazing ideas worth spreading for the people of the Silicon Valley of India. As a strategic supporter of this cause, Swissnex India suggested a number of innovative Swiss start-ups to showcase at the TEDx Bangalore event. We chose dizmo, whose solution was very innovative and exciting to experience for our audience/guests and suited the overall theme 'Challenge ___'. At the event, dizmo attracted all segments of audiences ranging from potential collaborators, students and big businesses. Dizmo has great potential in the India market."
Thomas Herrmann
CEO at Entiretec
"The rise of distributed and networked information systems requires new breakthrough technologies to allow users to interact with applications, data, services in an immediate, flexible and dynamic way. We have been captured by the potential of dizmo to further enhance the capabilities of our solutions in a variety of application fields."
Avinash Magdum
General Manager Quality of The Harbinger Group
"We have witnessed the amazing journey of Dizmo Inc. from their campaign in Kickstarter to series of Beta releases to first official release. They have excelled in all 4 aspects of Quality – Functional, Structural, Process and User Intimacy. Dizmos are extremely easy, intuitive and fast to program; they can be built for almost anything and adapted to any application, for a variety of market segments. We are happy to be associated with Dizmo and help them bring new dizmos to the market place."
Get in touch
To understand how dizmo would help you solving your use case and allow you to be successful in your digital transformation journey, please contact us.