2019-09-04 Posted in: dizmo, partners, use cases
A Use-Case Deep Dive – iPaaS in the Insurance Industry
Under the umbrella vision of "Claims Without Pains", dizmo has worked with multinational insurance firm AXA to develop next-generation claims processes. In this blog post, we dive deep into some of the most pressing iPaaS use-cases in the insurance industry. 
Together with AXA, dizmo's objective was to solve integration challenges to simplify handling across systems, enable dynamic workflows and ease collaboration and communication. Specifically, the aims were to improve decision quality, achieve lower average handle time for claims and increase customer and employee satisfaction.
To achieve this, dizmo and Axa conceptualized a workspace with focus on five use-cases that target operational business challenges: the claims dossier, the AI-augmented work-space, the skills-finder, the data analytics integration dizmos, and the cLEAN planning dizmo.
Use-Case One: Dizmo Claims Dossier – Gathering, Storing, and Searching
One pain point that stood out was gathering, storing, and searching for information. At AXA, the process was felt to be too long, too complex, and had too many steps. These problems are not unusual – in general, 62% of employees delay tasks that require multiple systems. It was determined that advisors and claims specialists did not want to lose the benefits of working with paper. The advisor wanted to feel like they were working with physical papers, but still, take advantage of digitization in terms of storing files from different sources. 
Our task became to simplify the Claims Dossier process in terms of visualization of documents, as well as gathering, storing, and searching for information all the way down to annotations. Thus, a dossier dizmo was developed that enables different views depending on the claim. The views can either be changed dynamically by the user, set according to the task or dependent on the layer on which the user is. Helper dizmos may be utilized for specific tasks, they can either be opened automatically or as needed.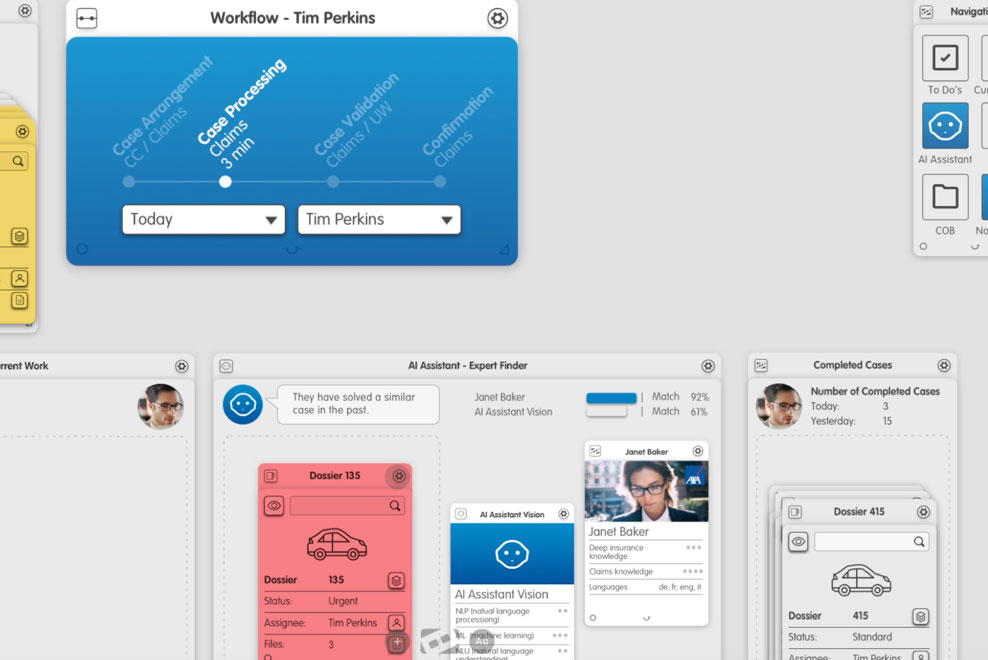 When defining the use-case, it became clear that an iPaaS like dizmo may considerably increase accuracy and efficiency in the insurance industry. The integration of the new Claims Dossier dizmo in an interactive interface enhances accuracy, and efficiency also improves as several different channels are unified into one single interface. In real terms, the advisor becomes faster almost whatever they do. A happy side effect: it even makes it easier to train temporary workers.
Use-Case Two: AI-Augmented Workspace – Facilitating Interaction Between Humans and AI
In a study by Accenture, based on Daugherty and Wilson's publication in Harvard Business Review Human + Machine: Reimagining Work in the Age of AI., it turned out that 91 percent of the surveyed companies target process efficiency through task automation, while they do not address how to make the most of their human workforce.  One of our objectives was to create a workspace that enables and facilitates interaction between human and AI Technologies, and vice versa. 
We strongly believe in enabling the human workforce to make decisions based on data-led insights. The insurance industry is not excluded. In fact, the use-case seems quite relevant for insurers, and with dizmo's augmented iPaaS-based workplace, work is boosted thanks to a reduced desktop with relevant information presented clearly in interactive modules. Thus, the augmented workspace for Axa empowers better data decisions, by having the right data on offer to make the right decisions at the right time. 
Use-Case Three: Skills-Finder – Empowering Collaboration 
Not all information exists online. A bold statement, yes, but the fact is that right now, to solve a claims case is not just about pulling information from digital systems; it is also highly collaborative. However, finding the appropriate expertise in individual cases is not always easy. You may recognize this issue, as knowledge-sharing is a challenge for any large organization.
At AXA, too, collaborating and triaging were felt to be inefficient as well as subject to errors. On a macro-level, this issue is not likely to subside any time soon, as skills and competencies needed in the workplace change. In fact, the World Economic Forum suggests that 75 million jobs will be displaced and 133 million jobs newly created by 2022. Clear and strict organograms soon will not be the status quo anymore.
Hence, the skills-finder use-case focuses on facilitating matches between tasks or projects and employees with the best matching skills. Thus, creating an advisory board or generating a team becomes much easier. By solving this use-case, dizmo's iPaaS empowers collaboration and helps Axa get ready for the future of work.
Use-Case Four and Five: Analytics &  cLEAN Planning
With the objective to enable dynamic data exchange and turn data into actionable insights, allowing to further improve processes and efficiency, dizmo and AXA also brought analytics integration to the platform. SAP integration is a staple of any iPaaS, and is not missing here.
Along the same lines, we also conceptualized a planning dizmo that allows users to master the challenges deriving from different Business Units using various task management tools. In times of agile working methods, it felt important to us that teams are able to communicate seamlessly over different tools and workflow management frameworks – for example Jira, KANBAN, and LeanKitin. If you want to know more details about those two use-cases, contact us!
Conclusion
Eventually, end-customers feel the pain when internal processes are less-than-seamless. In addition, today precedent customer experiences of seamlessness across digital channels have created new expectations, and insurers are not escaping them. Together with AXA, dizmo has conceptualized an integration platform for the insurance company that improves decision quality, achieves lower average handle time for claims and increases customer and employee satisfaction, with the sole goal in mind: to make better decisions faster!
To learn more about dizmo's approach to digital transformation, send us a message at contact@dizmo.com.