2019-08-15 Posted in: dizmo, partners, the future of work, use cases
A Digital Transformation Journey with AXA
Insurers are grappling with terabytes of data and putting together forecasting models that increasingly have to deal with the unpredictable. With plenty of available data on everything between turbine speed and beekeeping, the question is increasingly not if the requested data exists, but how to find it, and how long it takes for the data to be used. AXA, a multinational insurance firm, has allocated millions for innovations to help it get ahead in its digital transformation journey, just as insurtech is getting ready to change the market landscape.
Better Decisions Faster
In a recent study, it turns out 62 percent of employees delay tasks that require multiple systems. Moreover, of employees' time, roughly one workday every week is wasted on information searches. Claims analysts at insurance companies face similar problems as they struggle to get a single view of customers or partners. Compiling and synthesizing data from different sources to solve a case is complex and demands that analysts handle several different systems.
While storing, searching and gathering information is felt to be too slow and complex, another issue is collaboration. It is not a process free of difficulties to find appropriate expertise in individual claims cases and knowledge-sharing is a challenge in a large organization. And so, collaborating and triaging are felt to be inefficient as well as subject to errors. Eventually, end-customers feel the pain when internal processes are less-than-seamless. In addition, today precedent customer experiences of seamlessness across digital channels have created new expectations, and insurers are not escaping them.
It was clear that the digital transformation journey at AXA was challenged by platform integration issues – and that the issues are prominent in the interface towards claims analysts. Thus, together with the AXA team, we conceptualized a customizable and optimized digital workspace that would enable the insurer to leverage it for improved decision quality, lowered average handler times and increased satisfaction among both customers and employees.
Smooth Sailing – Modularity and People-Literate Technology with dizmo
We set sail for a digital transformation journey to simplify handling across systems, enable dynamic workflows, and ease internal collaboration and communication. Dizmo builds on seamless integration at the edge and smooth digital transformation journeys to deploy people-literate technology.
With a code-free/low-code and contextually aware modular workspace, the user can intuitively visualize data and make it tangible. The platform allows for views that can be changed dynamically by the user, set according to a task, or dependent in which layer which the user is. Importantly, as dizmos are self-contained modules, functionalities can easily be added, modified and recombined, which makes the platform flexible and dynamic.
Dizmo also enables ad-hoc API integration, which helps to future-proof both the IT-organisation and the platform by empowering a service-oriented architecture and simplified deployment. Furthermore, the platform supports different ways of working. Multi-user, offline, and logging capabilities improve employees' collaboration experiences.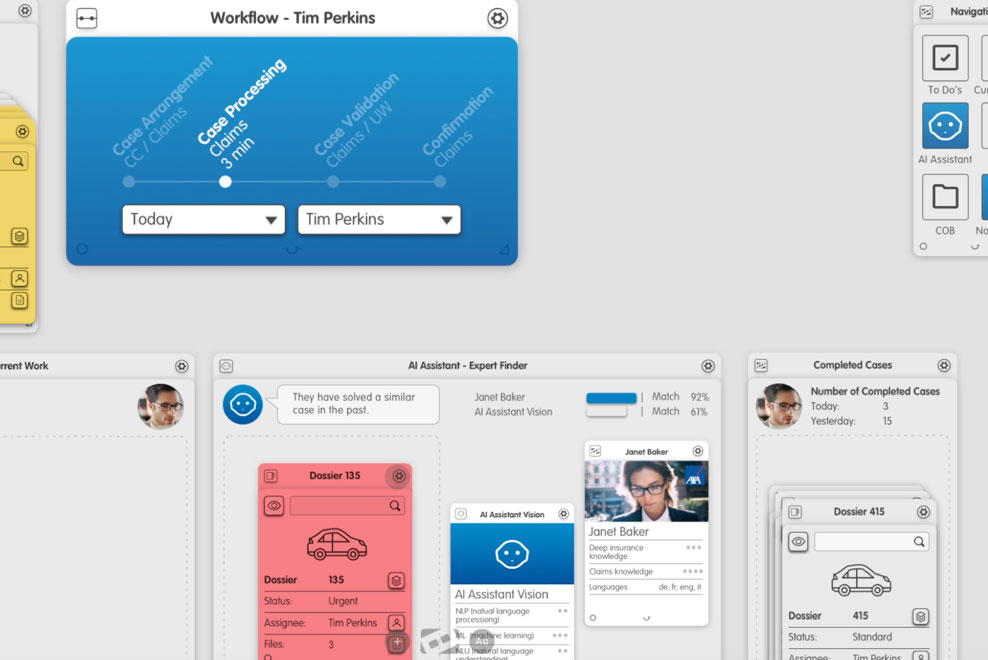 Digital Transformation – Claims Without Pains
As a result of the digital transformation journey and boosting accuracy, speed and efficiency,  AXA is able to directly improve business results. The augmented dizmo platform fully enables the vision to practice "Claims Without Pains".
If you want a full view of the results accomplished by the digital transformation driven with AXA, contact us at contact@dizmo.com. Also, take a look at our video gallery and stay tuned for the second installment of this blog post, which dives deeper into the use-cases essential to AXA's journey.