2016-05-20 Posted in: dizmo, events
TIBCO NOW 2016: Destination Digital
Hi from Las Vegas!
This week, we're posting from Las Vegas, at Tibco's annual conference #TIBCONOW, and what a crazy week it has been for us! The event has finished yesterday, and we're excited to share our thoughts, stories and updates.
The conference theme is Destination Digital and the event has been packed with talks, breakout sessions and exciting announcements. As you can imagine, we had a busy agenda lined up for Tibco, which kicked off the event first with a few inspirational speeches, including the talk from Ray Kurzweil, the inventor and futurist. We loved his quote about the key to being a successful inventor and scientist: "It's timing: the right idea, right place, right time."
The key to being successful as an inventor or scientist is timing: the right idea, right place, right time. Ray Kurzweil at #TIBCONOW

— TIBCO Software (@TIBCO) May 17, 2016
On the same day of the event, we were very proud to watch Tibco's CTO Matt Quinn name dizmo with Cisco as collaborators in the IoT space. It was an honour to be part of his technical keynote talk on how we can 'interconnect everything'. The Tibco Digital Hub had a continuous live demo in Tibco's magic wall, demonstrating Tibco IoT with dizmo and Cisco.
What an honour! CTO @MattQuinn @TIBCO brings @dizmos on stage #TIBCONOW #IOT #DestinationDigital pic.twitter.com/RsiIOpFCCB

— dizmo (@dizmos) May 17, 2016
Lucus Darnell (@ProxyProdigy), Chief Innovation Evangelist within the CTO office at TIBCO posted about dizmo's interactive wall highlighting our coined term the 'interface of things:
Coming to #TIBCONOW? Stop by the Wall to see how @dizmos Interfaces our Things. #InternetOfThings #IoT @TIBCO pic.twitter.com/w52ZXa3www

— Lucus Darnell (@ProxyProdigy) May 12, 2016
There's always time for a selfie at a big event like Tibco Now, so here's a photo of our team members Luigi Mantellassi, Paul Hacker and Michael Diener enjoying the conference!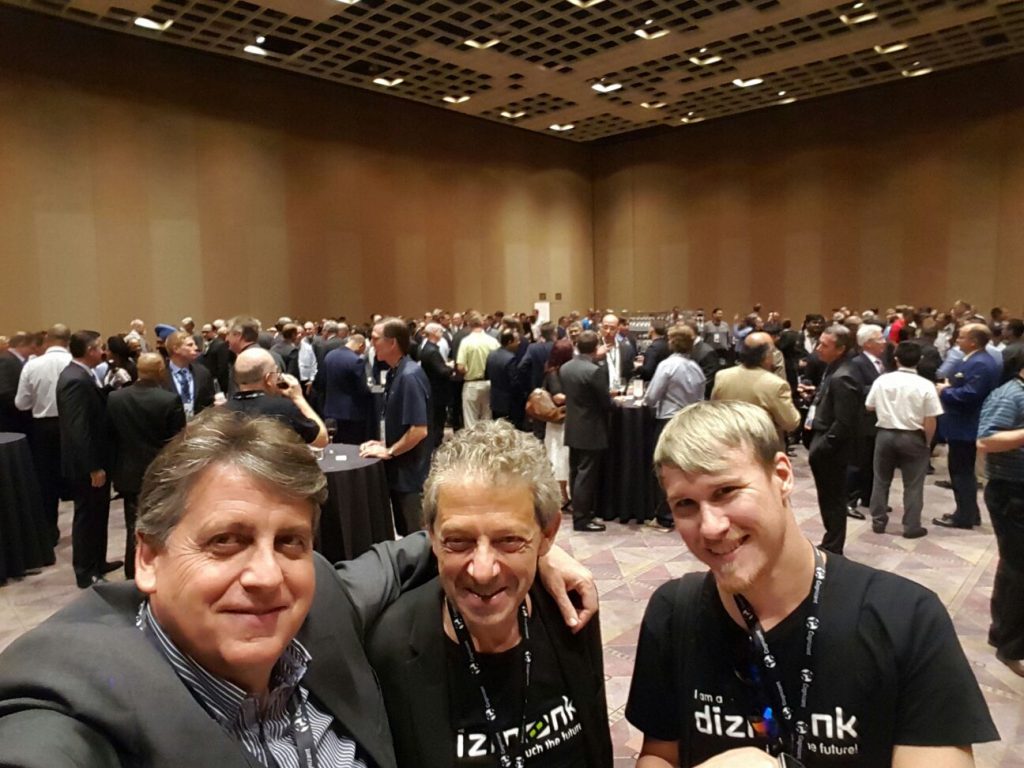 All three days were also packed with a variety of great meetings where dizmo folks had the pleasure to connect with Tibco management, customers, other partners and Industry Analysts discussing business opportunities and forward plans – what an amazing event – thank you TIBCO!
Tweet us your thoughts and reviews on Tibco Now, were there any announcements that you were particularly excited about? @dizmos