2020-07-10 Posted in: augmented intelligence, awards, dizmo
Juniper Research selects dizmo as Technology & Innovation winners of this year's Future Digital Awards
Dizmo has once more been recognized for its commitment to innovation and for the value of its technology. This time it is Juniper Research who recognises it and has declared dizmo Gold Winner of their 2020 Future Digital Award, for the Technology and Innovation category, placing our name alongside very notable winners such as Thales, Harman, IBM, ZTE, ARM, LG and more.
Juniper Research are proud of their ability to pinpoint the next big impactors from the crop of emerging technologies in many different fields. Their award recognises organizations that are making outstanding contributions to their industry and are positioned to make a significant impact in the future. It honours leading market players by assessing their performance under the following criteria: Product Features & User Benefits, Product Innovation, Commercial Partnerships, Commercial Launches, Compliance & Certification, Future Business Prospects.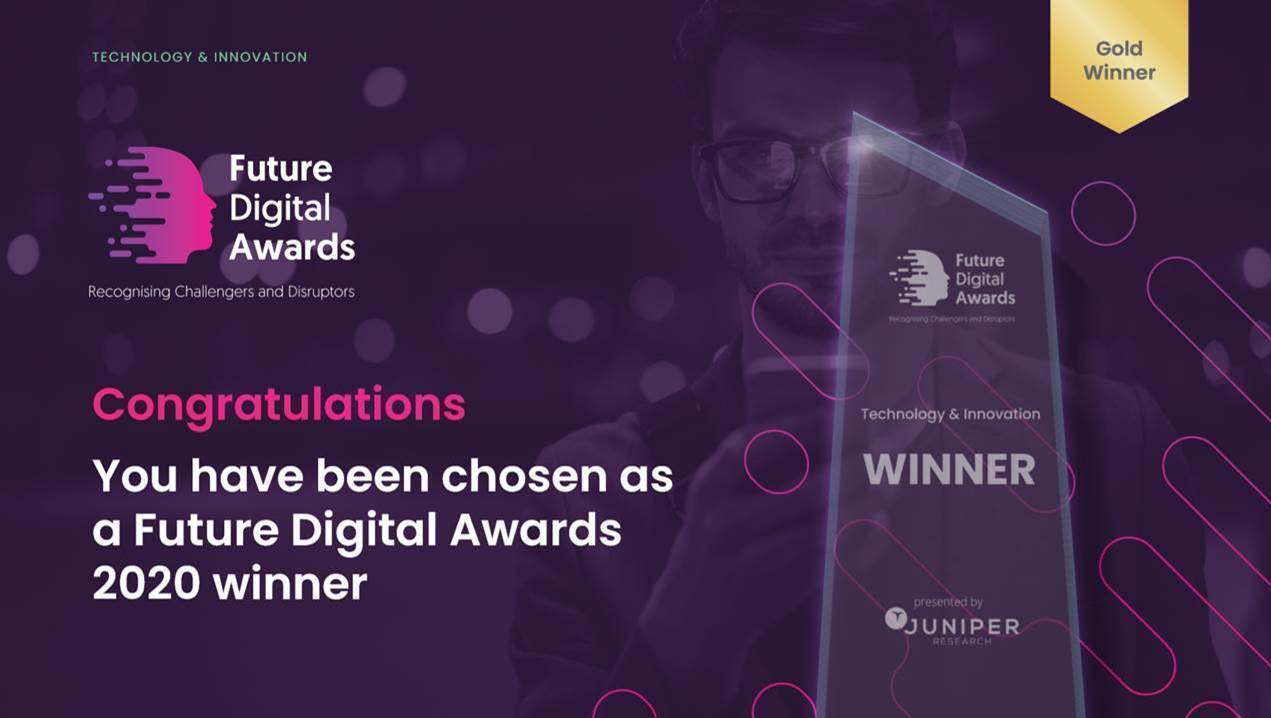 Dizmo is a strong enabler of augmented intelligence concepts – use cases that extend beyond just integrated microservices or networked IoT device solutions – and gateways to new business models. In addition to the smart lifestyle segment, as recognized by Juniper Research, our technology provides a smart orchestration and usability environment for any enterprise digital platform to rapidly turn data into actionable insights, create more effective and efficient processes and accelerate innovation.
The recent health crisis cased by COVID-19 has highlighted the effectiveness of digital technologies to transform social and business processes. It has created new needs and uncovered new possibilities to address them. It has boosted the creativity of communities and, at the same time, pushed companies to adapt their business models and product offering to a new reality.
Full digitization, virtualization, automation and optimization of processes has become a must have for companies to insure business continuity in all conditions, at the same time reducing their cost of operations, while still maintaining a high standard of quality and end-user satisfaction. With our partners, we have developed solutions matching those requirements for enhanced interaction with Cognitive Assistants, Asset Tracking & Management system and more, which are being successfully deployed in the Insurance and Finance segment and Healthcare, for example.
No matter the sector our partners develop solutions for, our architecture is driven by certain principles that ensure that the resulting products are quick to market, disruptive and interoperable. This makes dizmo the ideal platform for orchestration, with no real limitation to the range of microservices, devices, contextual data, or other online services you can build into the experience.
Now also available as a native web browser-based solution, dizmo's SaaS platform further strengthens its known customer benefits. Through its popular and patented applied techniques, such as "docking" and "digital geometry" for example, it enables customers and partners to build day-1 intelligent products, future proofed, context aware and seamlessly scalable. Check dizmo in action here or read more about our product here or contact us to see how dizmo can help you innovate and transform your processes.