2017-02-06 Posted in: dizmo
Integrated Systems Europe 2017
We're very privileged to be collaborating with ViewSonic this week at the Integrated Systems Europe show in Amsterdam.
For most manufacturers, integrators and suppliers, it is the single most important event in the calendar year. This year's edition is expected to attract in the region of 70,000 visitors with over 1000 exhibitors! Please drop by and visit us at the ViewSonic stand in Hall 11 – Booth A132.
OK, so we're biased. But we do think the combination of ViewSonic's leadership in Interactive Flat Panel displays with dizmo's next generation collaborative workspace software is something best of breed here. What will be on show at ISE is the Multi-User Mode – the more technical way of referring to people having separate, independent "work stations" facing outwards in their own direction in a 360º format, on a horizontally-laid, interactive, ViewSonic brainstorming surface.
You'll notice I said "outward" and "360º" way – rather than saying "North/ South/ East/ West" or top and bottom, as there is no top and bottom or North and South side of the screen – which makes this solution very unique and, differentiated from most other collaborative workspace solutions out there.
Below, an example scenario – four colleagues, or students working collaboratively, may bring their own set of data, content and apps to the shared work surface and rotate and share from one workstation to another: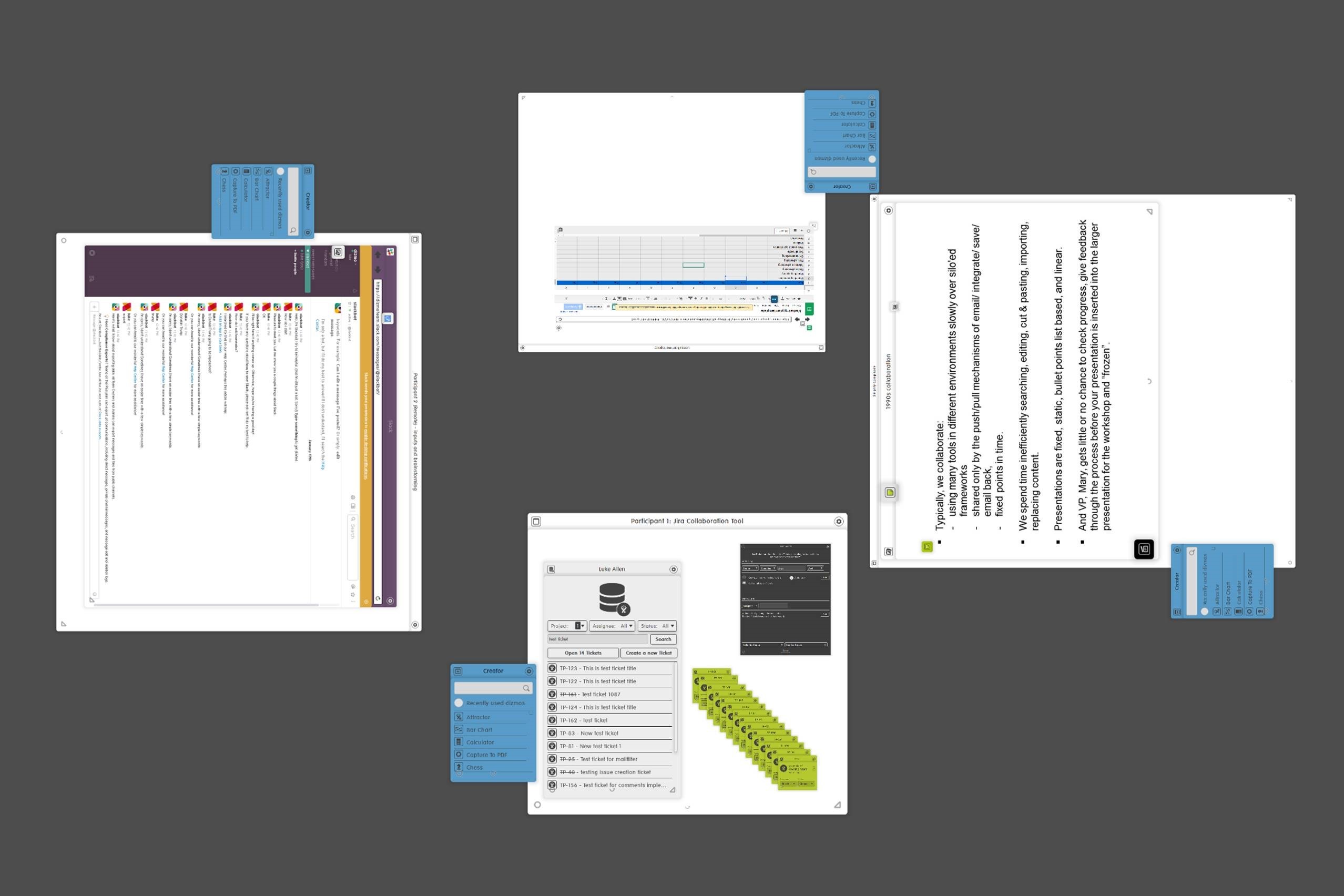 We're all trying to push the digital transformation agenda forward to the best of our abilities, aren't we?
In the digital workplace, speed and collaboration at scale are your weapons to drive productivity and, ultimately, competitiveness. The secret sauce for success, according to Gartner, is employee engagement via better sharing, collaborative tools and the "consumerisation" of business apps.
Collaboration, whether team-present or team-remote working, live or asynchronously, even under time-pressured conditions, is still a process plagued by legacy thinking. Content, ideas and data arrive in diverse forms, app channels and devices. We skype, text, email, WhatsApp and Webex. These are silo'ed frameworks – still limited to the one active app per screen paradigms, and hand-porting data from app to Excel to email, assuming device compatibility.
Here we are bringing previously silo'ed app frameworks, content and data sets to one Unified Surface for collaborating on, brainstorming and discussing together in a more humanly intuitive arena.
Ideal for the creative agency, marketing division, R&D department, the corporate boardroom, or even the classroom, where this becomes therefore a more meaningful dissemination of information, more productively.
See you there!