2014-10-08 Posted in: dizmo, events
dizmo at TEDx Bangalore ! (Q&A)
At the start of August dizmo were invited to TEDx Bangalore to showcase our software and engage with the exciting technology community in India.
Sartaj Anand, Curator of TEDx Bangalore said "TEDxBangalore is extending the experience of sharing amazing ideas worth spreading for the people of the Silicon Valley of India. As a strategic supporter of this cause, swissnex India suggested a number of innovative Swiss startups to showcase at the TEDx Bangalore event. We chose dizmo, whose solution was very innovate and exciting to experience for our audience/guests and suited the overall theme 'Challange ___'. At the event, dizmo attracted all segments of audiences ranging from potential collaborators, students and big businesses. dizmo has great potential in the India market."
We sent one of our key developer and team member, Marco Flüeler to the event and have since interviewed him to find out all about it.
TEDx Bangalore, what can you tell us about it?
There were speakers to all three topics. Each talk was 20minutes long which was an ideal length. There were around 800 people attended the event, seats for which were fully sold out.
This was the first TEDx event in Bangalore, it was the first time the city came together to highlight initiatives and institutions.
Have you been to a TEDx event or similar before?
It was the first time for me participating in an event like this, it was even the first time traveling to Asia, but I have of course watched TED talks before.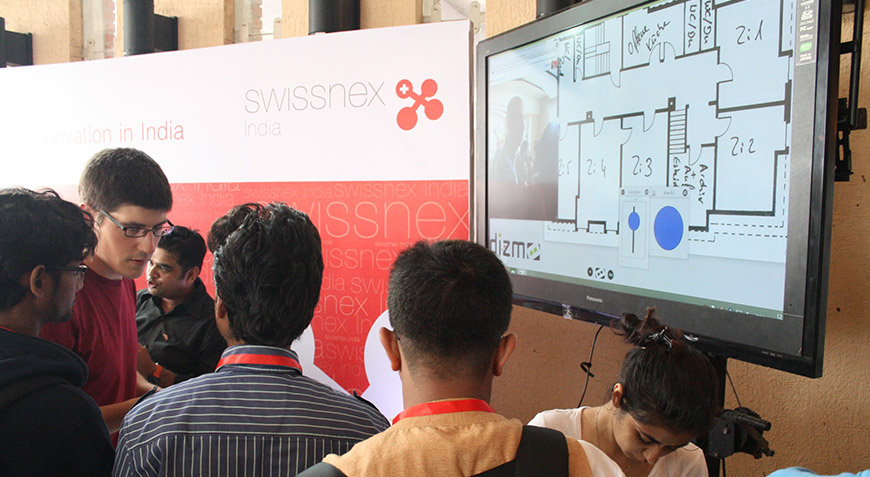 What was the reaction to dizmo at TEDx?
People responded very well and were extremely  interested in hearing more about dizmo. Initially the main objective was for me to explain to people the opportunities that dizmo presents as well as the actual product itself. It was important for me to show dizmo's versatility and apply ideas.
A lot of people we spoke to asked about how they could use dizmo every day in the workplace. I showed an architect who attended the event that dizmo could be used to discuss upcoming plans interactively and display drawings and sketches on the same digital surface. Responses to these demonstrations were really positive.
What was the structure of the day?
The Ted x Bangalore event started at 9:30am and ended at 6:00pm and was made up of three thematic sessions:
BLR to Bangalore, an opening session aimed at reintroducing Bangalore but in a different light.
Down South, a session stressing on the need for a conversation between Bangalore and the rest of India to occur.
Outsourced, a final session exploring the identity of Bangalore as the Outsourcing and IT Capital of the world.
Were there any talks that you liked in particular?
Much of my time was spent speaking with others in the interactive demonstration booth; however Jon Mark Walls, CEO of GovFaces delivered a thought-provoking talk on how technology can revolutionize democracy.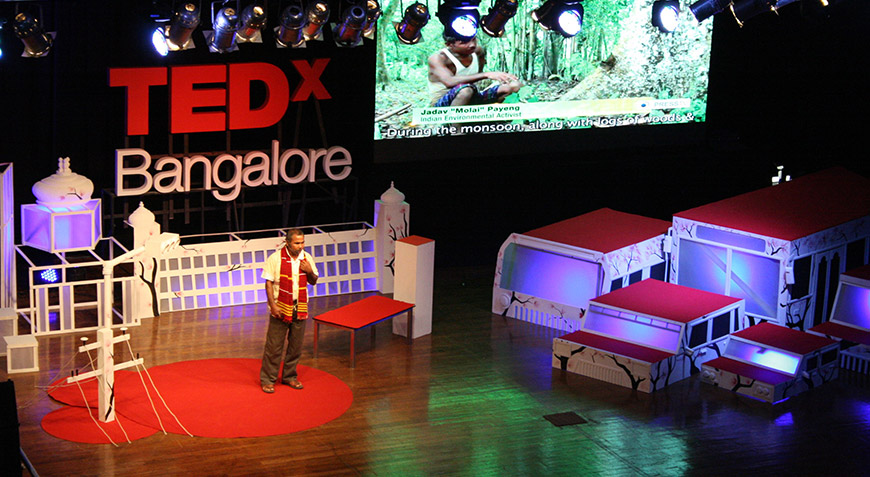 What interesting people did you meet?
In the interactive booth I spent a lot of time meeting some great people and speaking to them about dizmo in more depth. What was great about the event is that it was possible to get in contact with almost every person there, from the student of the local university to the curator of TEDx India. We collected lots of contacts  look forward to keeping them informed on progress and find opportunities of collaboration.
What groups of people were at the event?
There were a lot of people from tech backgrounds who attended the event, such as Deepankar Biswas, CEO at Offergrid.com, Sateesh Kalidas, managing engineering at Cisco and Greeshma Unni from Luftansa Technik India. There was a nice mix of students, developers, engineers, designers and architects. And one of our Kickstarter backer, Avinash Magdum was also there and traveled all the way from Pune, India to meet us and speak about dizmo. We plan to stay in contact to discuss possible future business opportunities with all of them.
How would you describe the tech community in Bangalore?
It's very big, Bangalore is like India's Silicon Valley. They are world leaders in software export.
What were the benefits of dizmo attending the event?
Having the opportunity to meet a wide range of people from all areas of the industry was a huge benefit. We spoke to the Vellore Institute of Technology (partner of the MIT Medialab in Boston) and they would like to have dizmo as an innovation example to be shown at their universities, which is great. There were programmers from companies and institutions who would also like to program dizmo software. We would not have made such great connections if we hadn't attended the event.
What was your favorite part of the conference?
It was inspiring to learn about India's tech culture and attitude to business solutions. I learnt the term "Jugaad Innovation" and I think it describes perfectly how the tech industry in India works as culture. The whole event was very cool.