Interactive – Agnostic – Expandable
Great user interfaces encourage interaction, kindle emotions, and persuade users to trust what they see in front of them. Dizmo takes it one step further: it is a disruptive, multi-purpose, and cross-platform visual workspace to boost creativity and interactivity, accelerating new design processes, and enabling dazzling levels of collaboration.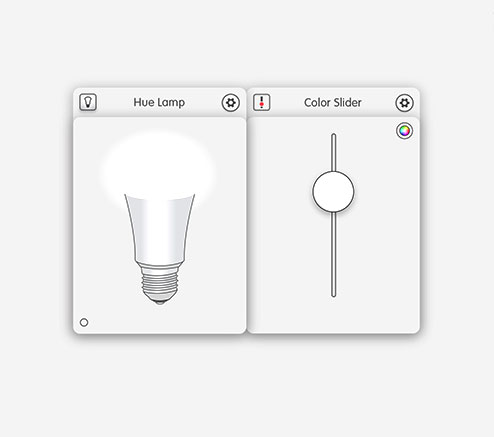 It is interactive: easy-to-learn, fun to use
Dizmo fully embraces the concept of natural interfaces, where 'things' can be instinctively understood, learned, and used. The learning curve is minimized by how 'things' are represented in the workspace and how they behave in the real world.
For example, in dizmo's workspace two objects move together once they have been overlaid. Alternatively, they recognize each other when they are in close contact. Another feature sees objects zoom in and be pulled toward the user in the upright position with a single click to ease access and manipulation, and they can be easily configured on the back. Ease of use is extended to the development of dizmo(s), which can be learned in a matter of hours, with standardized tools and a minimal API set.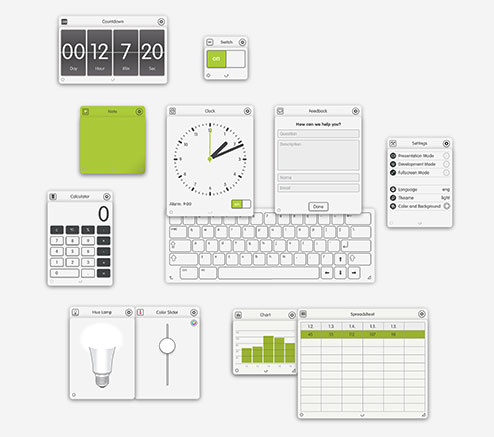 It is agnostic: infinite and unchained
Dizmo is 'OS agnostic.' It will work equally well on Windows, Linux, MacOS, or Android platforms and is highly independent from the accompanying hardware; whether it's a desktop, laptop, projector, mobile device, monitor, or digital panel of any type. Dizmo is abstracted from any proprietary underlying hardware interface technology (touchscreen, gesture or voice activated), supports legacy devices, such as mice or track-pads, and adapts to all types of display technologies and sizes.
A truly universal platform.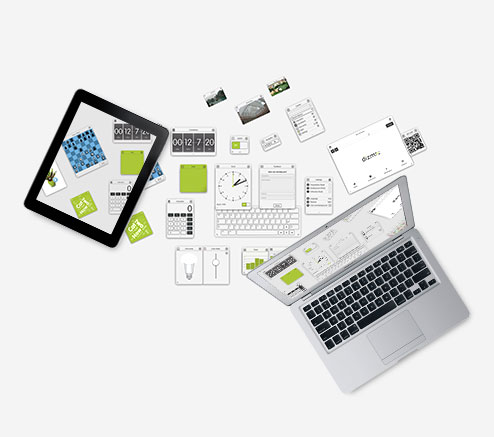 It is expandable: one design, many uses
Dizmo allows free, complete, and swift manipulation of digital objects in an infinite digital white-space, allowing users to pan and smoothly zoom-in/out. Dizmos can be instantiated multiple times and accessed concurrently, as well as: moved independently, rotated, re-sized, zoomed in/out, grouped and iconized.
Dizmo also allows users to connect – 'dock' – digital objects to each other and to share them with other users, machines, and locations via dizmoSynchro, and/or in real time via dizmoLive. The creation of new digital objects (dizmos) is supported by open API's and SDK, and distributed through an online store (dizmoStore), allowing users to easily customize existing functionalities or quickly develop new ones. This adds new datasets, content, or services to the workspace, as well as giving users the ability to monitor and control objects in the physical world.
Get in touch
To see how dizmo can transform your products and the way you work.