Why dizmo?
The challenge for digital services is moving from 'anywhere/anytime' (mobility) to 'any-surface/any-object' (ubiquity). 'Digital convergence' is a one-way ticket from mobility to ubiquity.
The problem isn't any longer how to order windows on a desktop touchscreen display, or how many apps you can access on a smartphone; but rather how to order, manipulate, manage, and make use of an infinite amount of content, services, data and objects on digital (or made-digital) surfaces. Made-digital surfaces allow anything to be an interface, from: tables, walls, doors, mirrors, tablets, phablets, phone-pads, dashboards, to monitors, TVs, windows, or even floors!
Existing user interface architectures were designed during the age of personal computing and optimized for fixed size screens, computer applications and 'windows-icons-menus and pointer' (WIMP) type of interface devices. They have been stretched to adapt to mobile devices, touchscreen displays and smart equipment. As a result, they are unable to adequately meet the demands of digital convergence, virtual interaction, and the needs of the 'Internet of Everything,' with its massive amount of content, data, services and objects to manage, from any source to any display. Dizmo solves this problem.
What can I do with it?
In the dizmoViewer, users are able to mix and match digital content from different sources, including social networks and web services, even content coming from other users. Moreover, they can use dizmos on any smart display and share content in an intuitive and immediate way. They can also visualize and control wireless devices such as lights, plant sensors, alarms, locks, webcams and dishwashers – interacting with the 'Internet of Everything'.
Dizmo helps makers, creators, early adopters and innovators, as well as project teams using Arduino, Rasberry Pi or similar platforms, looking for a fast yet powerful way to create new brilliant user interfaces for their projects. Developers now finally have a platform to easily and quickly create digital gizmos and connect them to create new services and personalized functionality. Similarly, web developers can deliver completely new user experiences, while UX designers can try out innovative interaction concepts with minimal effort, (e.g by freely re-arranging the elements of a control panel).
Below are two groups of practical use cases we are focusing on: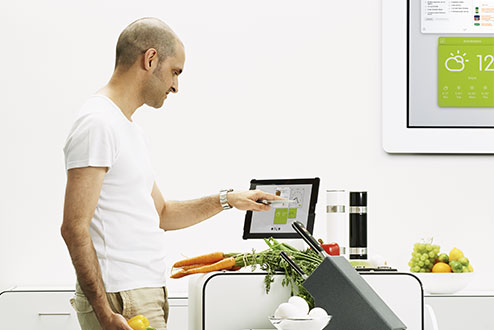 Living space of the future:
DizmoViewer enables true multitasking environments and a multi-channel experience. Imagine being at home and using your digital book of recipes to prepare your favorite dish, while following your friends on Twitter, keeping an eye on your baby monitor and the front door webcam. At the same time, be able to follow the latest news, sporting event, or make a video call, all on the same touchscreen.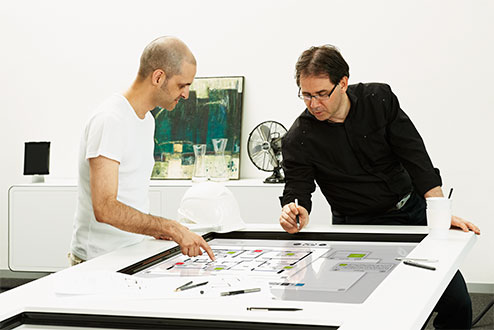 Work space of the future:
Virtual teams, and users of creative software in general are always looking for the newest and best way to create, share their ideas, and collaborate. DizmoViewer also helps anyone looking for more efficient and productive ways to present and explain concepts and projects in a fully integrated fashion. DizmoViewer is a platform where simulations, results, charts, slides, images, live websites, and videos coexist, in order to help you get your message across.
Get in touch
To see how dizmo can transform your products and the way you work.